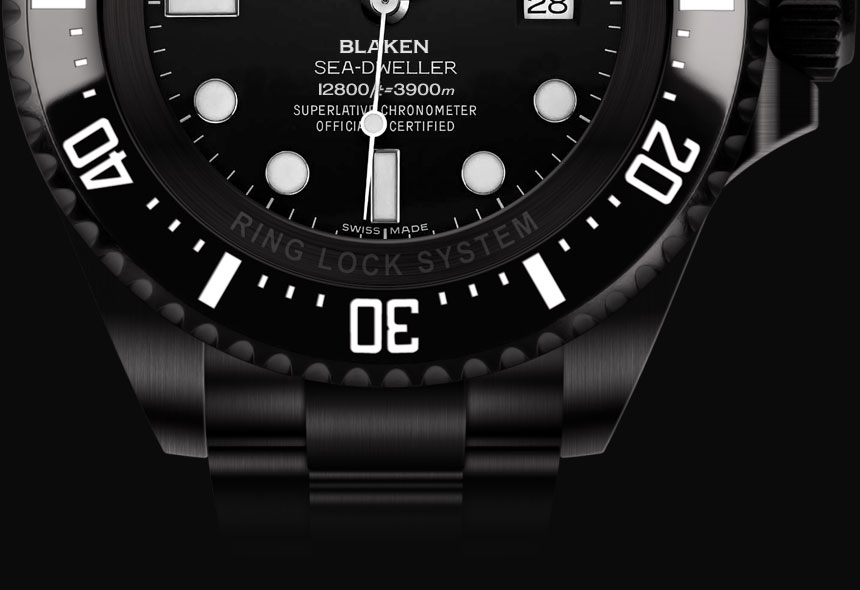 The "Diamond-Like-Carbon-Coating" - also known as DLC-coating - is patented, and Blaken is the only company to apply it in this form anywhere in the world. It takes more than 16 days for a Blaken to undergo all the processes in the refining procedure, which are overseen and quality-checked by our specialised engineers and materials experts. The result is a perfect jewel-like surface with a shine and toughness that is scarcely matched anywhere in science and technology.

For a long time, the material quality of the diamond-like carbon was only able to prove its extraordinary mechanical and chemical characteristics in relative secrecy. The coatings, which in their various forms are collectively known as DLC, standing for Diamond Like Carbon, were originally developed for use as protective wear in motorsport as well as aeronautical and aerospace technologies, as well as in medicine.
A micrometre is a thousandth of a millimetre. A standard sheet of paper creates an average thickness of around eighty micrometres. DLC-matt layers, by contrast, are only one to two micrometres thick, and at the same time are up to eight times harder than steel, which makes the wear and scratch resistance of DLC-coatings superlative. Contact with chemical materials, such as for example solvents, paints, acid or alkaline substances have no effect on DLC-coatings. Low friction values also make this laminate perfect for technical applications involving steel or other hard metals and thus provide an ideal protective layer for luxury watches, whether they are for diving, sailing, mountaineering or use in business meetings.

In addition to these excellent mechanical qualities, DLC also has the advantage of having high resistance to corrosion and a superb next-to-skin compatibility. The material contains no allergenic metals and, thanks to the plasma-coating used by Blaken, it can also be used as a protective layer, for example against nickel parts in steel.

A DLC-coating provides new standards with regard to design and durability. Aesthetic combinations varying from polished high-sheens to satin surfaces work in tandem with the topography of the coating's components. The colour spectrum here ranges from deep black to noble anthracite. Such high quality and decorative surfaces adorn luxury goods, such as stainless steel or titanium mechanical wristwatches as well as the interior of classic sportscars - and precisely these applications really reflect the symbiosis of technology and aesthetic impression.