Info
Details
Housing
40 mm diameter
hermetically sealed Oyster housing
sapphire crystal watch glass
waterproof to 100 metres
Bezel
blue-red ceramic bezel
UV-resistant
rotatable both ways
24-hour scaling
Wrist band
Oyster bracelet
Oysterlock-clasp with safety bar
Easylink extension system (5 mm)
Special remarks
COSC-certified Chronometer
Self-winding movement
Date display with loupe
12-hour display for an additional time zone
Parachrom Breguet overcoil spring
Triplock winding crown
Service
Global five year warranty
Blaken watch box
Free global delivery via a luxury goods courier
Models
Housing
40 mm diameter
hermetically sealed Oyster housing
sapphire crystal watch glass
waterproof to 100 metres
Bezel
blue-red ceramic bezel
UV-resistant
rotatable both ways
24-hour scaling
Wrist band
Oyster bracelet
Oysterlock-clasp with safety bar
Easylink extension system (5 mm)
Special remarks
COSC-certified Chronometer
Self-winding movement
Date display with loupe
12-hour display for an additional time zone
Parachrom Breguet overcoil spring
Triplock winding crown
Service
Global five year warranty
Blaken watch box
Free global delivery via a luxury goods courier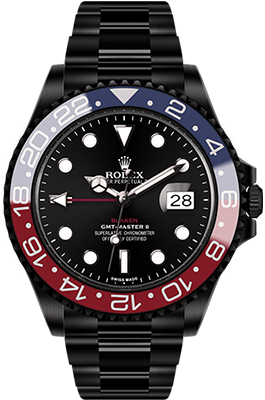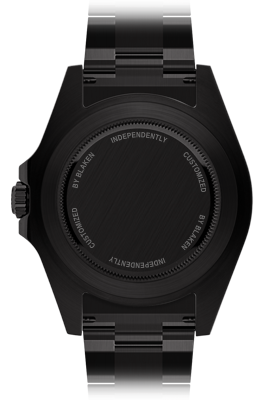 Front
Back
Refinement
Hardness
Up to eight time harder than Rolex watchsteel.
Resistance
Virtually scratchproof and corrosion-resistant.
Biocompatibility
Chemical resistant and no allergenic materials.
Finishing
Blaken Logo on the face.
"Depending on the Level of complexity, the process takes up to eight weeks, during which our engineers and materials experts turn a dream watch into a handmade unique piece that's one hundred percent made in Germany."Alexander Klingbeil
Managing Director, Blaken GmbH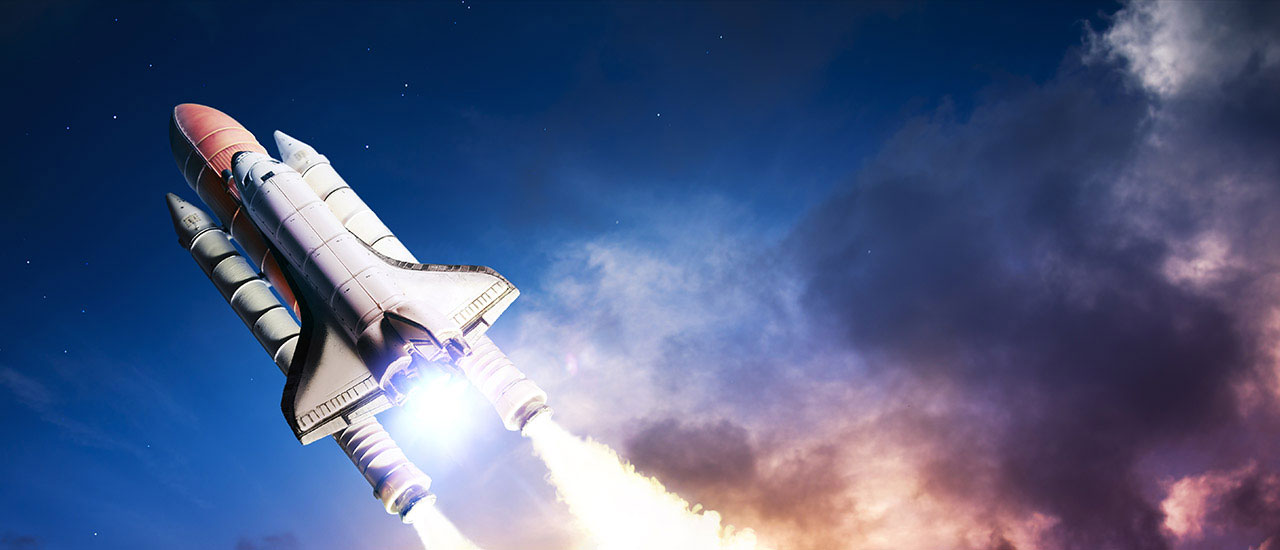 GMT-Master II BLRO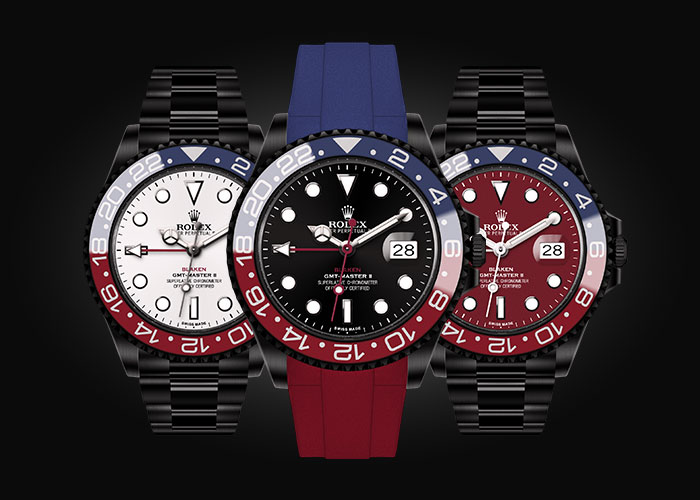 Individual
Your watch is as unique as you are.
Tell us which model you would like
to transform into an exclusively
refined Blaken.
Personalize